Call us now:
0333 7000 747
Open 9 until 9 daily
Start your perfect holiday
contact us today!
12 Nights - £4,095pp
Flight Inclusive Price from UK
International Flights
Domestic flights
3 night River Cruise
9 nights accommodation
Most meals
Shore Excursions
Private Tours in Yangon, Inle Lake
Based on 2019 - 20 prices
View Map
Holiday Confusion?
You need a Specialist
Solve my Problem
Cambodia & Myanmar in Style
We can Tailor Make Your Holiday
Angkor & Myanmar in Style
The Bayon, Angkor
Fisherman on Inle Lake
The Strand Cruise, Myanmar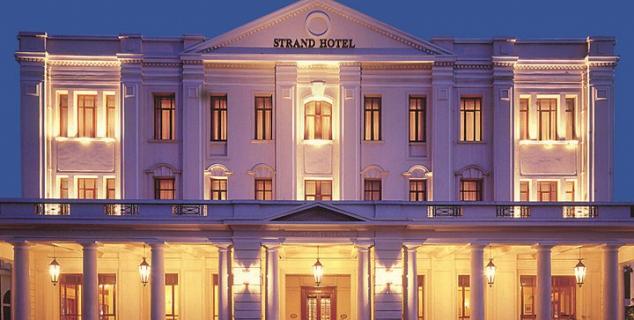 The Strand Yangon
Balloons Over Bagan
Angkor & Myanmar in Style
What a wonderful way to see Burma and Cambodia in style.
Begin the trip with a 3 night stay in Siem Reap, with private touring of the temples of Angkor and nearby Tonle Sap Lake.
Step back in time in Rangoon (now Yangon) and stay at The Strand, the colonial era iconic hotel in the centre of Yangon.
Enjoy a private full day tour of Yangon, including the magnificent Shwedagon Pagoda, one of the truly great sights in Asia.
From Yangon fly north and do what Kipling never did, and visit Mandalay.
Board the luxurious Strand Cruise for a 3-night cruise downstream to Bagan.
The cruise offers a continuation of the same level of service and comfort as the Strand Hotel.
Enjoy breakfast on the famous teakwood U-Bein Briedge before departing on your Irrawaddy Cruise, visiting Ava, Sagaing and Mingun.
Cruise to Bagan and tour the magnificent temple-filled plain by the Irrawaddy River.
Enjoy an early morning balloon excursion over the temples before heading for two days by beautiful Inle Lake.
From Inle Lake head to Bangkok for two nights in the iconic Oriental Hotel by the Chao Phraya River.
As a final treat before returning, enjoy a romantic riverside dinner in a Royal Residence.
All of our itineraries are completely tailor made and can be adjusted to suit your interests and budget - so just let us know your preferences.
Inclusions
International flights from the UK
All domestic flights & taxes
Accommodation with breakfast
3 night Strand Cruise
All excursions from cruise
All airport transfers by private car
Private car, driver and guide on excursions
Entrance Fees
Romantic Riverside Dinner in Bangkok
Accommodation
3 nights Siem Reap, Cambodia
2 nights Yangon at the Strand
3 or 4 night Luxury Strand River Cruise
2 nights Inle Lake
2 nights Bangkok
Excursions
Full day tour Angkor
Full day tour to Tonle Sap
Full day tour Yangon
All shore excursions from cruise
Full day tour Inle Lake
Day 1: Fly UK to Siem Reap
Overnight flight UK to Siem Reap.
Day 2: Siem Reap
On arrival you will be met and transferred to your hotel for check-in.
Enjoy the rest of the day at leisure.
Overnight Siem Reap. Breakfast included.
Day 3: Siem Reap
Enjoy a full day's sightseeing in Angkor, the highlight of any tour of Cambodia.
Today visit Angkor Wat, Angkor Thom, spectacular Ta Prohm and round off the day with a visit to a temple for sunset.
Overnight Siem Reap. Breakfast included.
Day 4: Siem Reap
Enjoy a full day's sightseeing of Tonle Sap Lake a short distance from Siem Reap.
This is a great way to break up exploring the temples and offers an insight into life in rural Cambodia.
Alternatively visit one of the outlying temples at Angkor or explore the main temples area of Angkor further.
Overnight Siem Reap. Breakfast included.
Day 5: Yangon
Transfer to the airport for your flight to Yangon.
On arrival you will be met at the airport and transferred to The Strand Hotel.
Enjoy the rest of the day at leisure.
Overnight Yangon. Breakfast included.
Day 6: Yangon
After breakfast enjoy a day tour of Yangon including the Schwedagon Pagoda, Scott's Market and Sule Pagoda.
Return to the Strand in time for Afternoon Tea. Enjoy the rest of the day at leisure.
Overnight Yangon. Breakfast included.
Day 7: Mandalay – Mingun
Transfer to the airport for your early flight to Mandalay where you will be met and transferred to the Strand Cruise.
Start off your journey with a rich breakfast on the illustrious U-Bein Bridge.
After breakfast, visit the Mahamuni Pagoda and Shwe In Bin monastery in the heart of Mandalay.
Return to the vessel with the rest of the crew for a delightful lunch whilst setting sail for historic Mingun.
The end of the first day will be celebrated with a Welcome cocktail on the upper deck, with the sun setting over Sagaing Hill.
Overnight on board. All meals included.
Day 8: Mandalay – Sagaing - Ava
The day begins with a visit to the Sagaing Hills and Soon U Ponya terraces to enjoy unforgettable views of the tower and the Irrawaddy River.
Enjoy a tranquil horse drawn cart ride around one of Burma's former capitals, Ava.
Once back on board, lunch is served while the ship sets sail to Bagan.
In the afternoon, relax on board whilst cruising the Irrawaddy. The crew will offer some activities and workshops for those who wish to participate.
Enjoy cocktails and dinner in the evening.
Overnight on board. All meals included.
Day 9: Bagan
Wake up in Bagan today.
Tour the temples of Bagan, including the Ananda and Shwezigon pagodas and Gu Byauk Gyi temple.
After lunch on board, visit a Lacquer Factory, which is a great insight into this famous local craft. There is an opportunity, but no pressure, to buy some great lacquer ware.
As twilight sets in, admire and enjoy a farewell dinner on the sand bank (if weather permits) and performances from talented local artists.
Day 10: Bagan – Inle Lake
Enjoy an unforgettable dawn balloon flight over the temples of Bagan, or if you prefer we can instead include a morning visit to the monk ceremony.
Afterwards, transfer to the airport for the short flight to Inle Lake.
On arrival in Inle Lake you will be met and transferred to your lake side hotel.
The rest of the day is yours to relax and enjoy the surroundings.
Perhaps enjoy a massage in the spa or alternatively add on an afternoon excursion.
Overnight Inle Lake. Breakfast included.
Day 11: Inle Lake
Full Day Private Tour of Inle Lake.
Visit the floating gardens, a market and an Intha village around the lake.
Also visit Phaung Daw Oo Pagoda, Inn Paw Khon Village (Lotus and silk weaving) and Nga Phe Kyaung Monastery.
Overnight Inle Lake. Breakfast included.
Day 12: Inle Lake – Bangkok
Transfer to the airport for your flight to Bangkok via Yangon or Mandalay.
On arrival you will be met and transferred to your hotel.
Overnight Bangkok. Breakfast included.
Day 13: Bangkok
Enjoy a leisurely breakfast on the riverside terrace.
Today is free at your leisure or to add an optional excursion as you wish.
If this is your first visit to Bangkok we recommend a visit to the Grand Palace.
This evening we have arranged for you to be collected from your hotel for a romantic dinner by the riverside in Bangkok in a Royal Residence with views of the river and Wat Arun.
Overnight Bangkok. Breakfast included.
Day 14: Fly to the UK
Transfer to the airport for your flight back to the UK.
Day 15: Arrive UK
Arrive back in the UK.
Strand River Cruise
The Strand Cruise is without doubt one of the most luxuriously equipped river cruisers in Asia, with spacious and beautifully fitted out cabins.
Cruise itineraries include 4 nights from Bagan to Mandalay or 3 nights from Mandalay to Bagan.
Facilities on board include a swimming pool and massage treatments.
The Upper Deck is a great spot for sundowners and the cabins offer a very high level of comfort, akin to a luxury hotel room on the water.
The Strand Hotel
'The finest hostelry East of Suez' wrote early 20th century travellers about The Strand Hotel in Yangon.
This 1901-built three story Victorian hotel is one of Southeast Asia's grandest colonial hotels in the same line as Raffles in Singapore and the E&O in Penang.
Once patronized exclusively by 'royalty, nobility and distinguished personages' according to early 20th century guide books, today this iconic hotel in the heart of downtown Yangon offers a rich sense of history to guests and visitors alike.
What's so Special?
Follow in the footsteps of former guests such as Somerset Maugham, George Orwell, Sir Noel Coward and Rudyard Kipling.
Siem Reap - Angkor
Siem Reap has grown rapidly in recent years as the gateway to the magnificent Angkor temples.
Angkor Wat is just the most famous of the Angkor temples, that are spread out over a wide area and deserve at least two full days for exploration.
There is now a good choice of luxury boutique hotels in Siem Reap. Boutique hotels in Siem Reap we recommend include Heritage Suites and the luxury La Residence Angkor.
Direct flights now link Siem Reap to Sihanoukville making a Cambodia beach holiday an easy add on to tour of Cambodia.
Bangkok
Bangkok, the capital of Thailand is an assault on all the senses and is a must on any holiday to Thailand.
Bangkok is a metropolis of over 9 million people, situated on the Chao Phraya River offering shimmering and lavish temples, world class shopping, vibrant local areas and an increasingly interesting range of boutique, luxury and trendy hotels.
Bangkok highlights include the Grand Palace, Jim Thompson's House, Bangkok's floating market and Chattuchak Market. A stopover in Bangkok is easily combined with a Thailand beach holiday and a stay in the north of Thailand.
Yangon
Formerly known as Rangoon, Yangon is the largest city in Myanmar and home to one of the finest temples in the Far East, the totally beguiling Shwedagon Pagoda.
Yangon is located at the confluence of the Yangon and Bago Rivers and is one of Asia's least developed major cities.
There are some great old colonial buildings in Yangon and the Strand Hotel is one of the Far East's great heritage hotels.
Most people touring Myanmar spend at least a night in Yangon as it's the only real international gateway.
Mandalay
Former capital of Burma, Mandalay is a must on any tour of Burma.
There are plenty of fascinating sights around Mandalay including the impressive rock carved pagoda at Mingun, picturesque Sagaing monasteries and the former Royal cities of Ava and Amarapura.
Mandalay itself is Burma's second largest city, the cultural centre of the country and has some impressive sights of its own, including Mandalay Hill and the Shwenandaw Pagoda. Mandalay is also the best place in Myanmar to do some handicraft shopping.
Bagan
Bagan is a Unesco World Heritage Site and one of the most compelling archaeological sights in Asia.
Over 3,000 stupas and pagodas dot the plain of Bagan creating one of the most incredible locations in the Far East, especially during a misty morning or at sunset.
Bagan was the former capital of the Burmese Empire and a major religious centre, before being sacked by an invading Thai army in the 13th century.
Inle Lake
Inle Lake is a popular destination on any tour of Myanmar, because of its beautiful surroundings and the famous Intha lake fisherman, who have a unique style of "leg-rowing".
Inle Lake is surrounded by fishing villages and floating gardens and the best way to tour Inle Lake is by boat.
Close to Inle Lake, the temple complexes of Kakku and Thar Khauk make for very rewarding excursions.
Is this a Private Tour or a Group Tour?
All of our tours are private tailor made itineraries, customised for you - we can amend things to entirely suit you.
You will have your own private car, driver and guide on excursions.
What are the departure dates?
Let us know your preferred dates of travel and we will find the best and most suitable flights to fit your itinerary.
As this is a private tour, there are no set departure dates.
Which Airlines do you use?
We work with all the major airlines flying to this part of the world.
Typically for Burma, Thai Airways, Singapore Airlines and Emirates would be airlines we would often use.
However, just let us know your preferred airline if you have one. We can organise flights from any regional destination in the UK.
There are no direct flights from the UK to Myanmar currently.
Which Hotels do you use?
We're careful with our choice of hotels, but we're guided by our customers also. If you have some preferred hotels, just let us know.
We specialise in boutique hotels and so we will often suggest some of our favourite smaller hotels where we think these will be suitable.
We keep on top of hotel developments in Burma from our office in South East Asia and regularly inspect the hotels we use.
Do you cater for Solo Travellers?
Yes, we have many solo travellers and Burma is a very safe, friendly and welcoming destination for those travelling alone.
River cruises in Burma are a popular option for solo travellers, especially with Pandaw Cruises who offer no Single Supplements on many departures.
How long have you been organising holidays to Burma?
We've been organising tailor made holidays to Burma for over 10 years.
Our team has a wealth of combined experience in the industry and our Director has been involved in organising holidays to Burma since the early 1990's.
Our partners on the ground in Burma have over 20 years experience in operating there.
They understand the country extremely well and have a strong infrastructure of staff, guides and vehicles within Burma. We've had the same partnership for over 10 years.
Is it ethical to travel to Burma?
We've faced this question since we started our business and it's been a debated topic for decades.
In our opinion, boycotting Burma only harms local people, disrupts livelihoods and does nothing to dissuade the government to act in one way or another.
The tourism business is vital for local guides and their families and this is who we help support when we send our customers to Burma.
Deluxe Hotel Siem Reap:
Raffles d'Angkor
Phum Baitang
Deluxe Hotel Bangkok:
The Oriental
Deluxe Hotel Yangon:
The Strand
Deluxe River Cruise:
Strand Cruise
Deluxe Hotel Inle Lake:
Inle Princess
12 nights Angkor & Myanmar in Style - Deluxe:
This is a guide price only, based on travel in low season.
Prices will vary according to choice of hotel and seasonal airfare and hotel surcharges. Please ask us for any current special offers.
Contact Us:
All of our Cambodia and Myanmar River Cruise Holidays are completely tailor-made and can be adjusted to suit your interests or budget.
Call us now to speak to a Cambodia and Myanmar expert about your tailor made luxury Cambodia and Myanmar holiday.
Call us now on 0333 7000 747
We're open from 9 until 9 daily and our 0333 number is a local rate number included in most call packages.
Luxury Beach Add on
Beach Extension
Add on a few nights at the beautiful Rayavadee in Krabi.
Iconic Thai luxury hotel in stunning location amongst tall limestone cliff scenery.
4 Nights from £420 pp
View
Stay at Raffles
Raffles Singapore
Swap Bangkok for a stay at Raffles (additional price below).
One of the most famous hotels in the world, Raffles goes very nicely with Luxury Myanmar.
2 Nights from £40 pp
View
Add Phnom Penh
Add Phnom Penh
Extend the Trip with 2 nights at Raffles Phnom Penh.
See the Killing Fields, visit the Silver Pagoda, Wat Phnom and colourful local markets.
2 Nights from £290 pp
View